Austin Bat Cave strives to serve the greater Austin, Del Valle and Manor communities by providing creative writing activities and ideas during this time of social distancing while we care for ourselves and our families. While you and your kiddos may be staying safe at home, here are some writing prompts, activities and lessons from the OWL page to keep their creativity going!
Be sure to sign up here for the OWL newsletter to get weekly writing activities, lessons and ideas for fun at home!
If you would like updates on Austin Bat Cave programs, please visit our website and sign up for our newsletter.
Austin Bat Cave nos esforzamos servir a las comunidades de Austin, Del Valle y Manor por proveer actividades y recursos de escritura creativa durante este tiempo del distanciamiento social mientras cuidamos a nuestras familias. Mientras usted y sus hijos/as están en casa, Austin Bat Cave ofrece actividades de escritura de la pagina OWL para que los estudiantes siguen practicando y desarrollando su creatividad.
¡Asegúrese de suscribirse aquí para recibir el boletín informativo de OWL para obtener actividades de escritura, lecciones e ideas semanales para divertirse en casa!
Si quiere más información sobre las programs de Austin Bat Cave programs, favor de visitar nuestro sitio web.
A statement from Austin Bat Cave
Una declaración de Austin Bat Cave
At Austin Bat Cave, we believe that black lives matter. We commit ourselves to fighting the pandemic of racism and white supremacy in our country and the incessant state-sanctioned violence against black and brown communities. We commit to fighting for justice and an overhaul of the systems, local and national, that enforce and maintain white supremacy and police brutality. Please read our full statement here outlining actions that we will be taking and engage with some of resources for affecting change in the local Austin community.
The writing activities that we have selected this week reflect our ongoing commitment to providing students opportunities to reflect on their experiences and tell their stories as a method of empowerment and learning. These writing activities were created for young writers in 3rd-6th grade, but can be adapted for all ages. Check out the Teen Corner of the OWL for more activities specifically for teens. If you respond to one of these prompts and want to share your work with us to receive feedback and be featured on the next OWL newsletter, submit your writing to ABC!
En Austin Bat Cave, creemos que las vidas negras importan. Nos comprometemos a luchar contra la pandemia de racismo y supremacía blanca en nuestro país y la violencia incesante sancionada por el estado contra las comunidades negras, incluyendo los imigrantes y refugiados. Nos comprometemos a luchar por la justicia y una revisión de los sistemas, locales y nacionales, que imponen y mantienen la supremacía blanca y la brutalidad policial. Lea nuestra declaración completa aquí que describe las acciones que tomaremos y participe con algunos de los recursos para afectar el cambio en la comunidad local de Austin.
Las actividades de escritura que hemos seleccionado esta semana reflejan nuestro compromiso continuo de brindar a los estudiantes oportunidades para reflexionar sobre sus experiencias y contar sus historias como un método de empoderamiento y aprendizaje. Fueron creadas para escritores jóvenes de 3 a 6 grado, pero pueden adaptarse para todas las edades. Explora el rincón para adolescentes por más actividades creado por jovenes. Si respondes a una de estas actividades y deseas compartir tu trabajo con nosotros para recibir comentarios y aparecer en el próximo boletín de OWL, ¡envíe su escrito a ABC!
From our Live Write-In for teens last Friday, we wanted to share one of the writing prompts where youth were asked to respond to this quote from author and Black feminist scholar bell hooks.
We also wanted to share some resources and additional readings from the Center for Racial Justice and Education called "Resources for talking about race, racism and racialized violence with kids."
Desde nuestro Live Write-In para jovenes el viernes pasado, queríamos compartir una de las actividades de escritura donde se les pidió a los jóvenes que respondieran a esta cita de la autora y la erudita feminista bell hooks.
También queríamos compartir algunos recursos y lecturas adicionales del Centro de Justicia Racial y Educación llamados "Recursos para hablar sobre raza, racismo y violencia racial con los niños."
Weekly Writing Prompts
Actividades de escritura por la semana
Monday: What was a time you stood up for what you believe in?
lunes: ¿En qué momento defendiste lo que crees?
Tuesday: Find something in your house that you use every day, like a bowl or toy. Why do you use it every day? What would your day be like if it wasn't there?
martes: Encuentre un objeto en tu casa que usas todos los días, como un tazón o un juguete. ¿Por qué lo usas todos los días? ¿Cómo sería tu día si no estuviera allí?
Wednesday: Write a story starting with this sentence: When I woke up, the first thing I noticed was that I wasn't in my house.
miércoles: Escribe un cuento que comienza con esta oración: cuando desperté, lo primero que noté fue que no estaba en mi casa.
Thursday: What advice do you have for a student who is about to enter your grade in the fall?
jueves: ¿Qué consejo tienes para un estudiante que está ingresando a tu grado en el otoño?
Friday: Do you think school should stay online forever? Why or why not? What would be the benefits of this? What are the drawbacks or challenges? You could write a letter to your district's superintendent or your principal to advocate one way or the other.
viernes: ¿Crees que la escuela debería permanecer en línea para siempre? ¿Por qué o por qué no? ¿Cuáles serían los beneficios de esto? ¿Cuáles son los desafíos? Puedes escribir una carta al superintendente de tu distrito o al director de tu escuela para argumentar a favor de una forma u otra.
Saturday: If you could protest anything, what would it be and why?
sábado: Si pudieras protestar por algo, ¿cuál sería y por qué?
Sunday: If you could create any law or rule for the entire world, what would it be?
domingo: Si pudieras crear una ley o regla para todo el mundo, ¿cuál sería?
What we are reading this week:
Lo que estamos leyendo esta semana: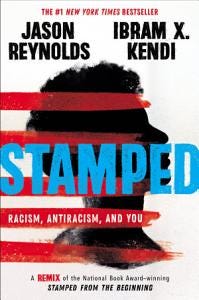 This week, we are recommending the book Stamped: Racism, Antiracism, and You: A Remix of the National Book Award-Winning Stamped from the Beginning, an adaptation by author Jason Reynolds of the book Stamped from the Beginning by Ibram X. Kendi. This book for youth outlines the history of racist ideas in America, and inspires hope for an anti-racist future. Race has always been used as a tool to gain and keep power, creating dynamics that separate people and keep silence. It explores race from a past and current point of view, shows you the thoughts and feelings of the authors, and why the impact of racism is still lasting. It highlights the fact that although racist ideas are easily fabricated and distributed, there is a way to dismantle that mindset. This is a fast-paced, gripping narrative that shines the light on the insidious nature of racism and underlines ways that people can stamp out racist biases in their everyday life.
Esta semana, recomendamos el libro Stamped: Racism, Antiracism, and You: A Remix of the Stamped from the Beginning, una adaptación del autor Jason Reynolds del libro Stamped from the Beginning de Ibram X. Kendi. Este libro para jóvenes describe la historia de las ideas racistas en los Estados Unidos e inspira esperanza para un futuro antirracista. La raza siempre se ha utilizado como una herramienta para ganar y mantener el poder, creando dinámicas que separan a las personas y mantienen el silencio. El libro explora la raza desde un punto de vista pasado y actual, le muestra los pensamientos y sentimientos de los autores y por qué el impacto del racismo aún se dura. Destaca el hecho de que, aunque las ideas racistas se fabrican y distribuyen fácilmente, hay una manera de desmantelar esa mentalidad. Esta es una narrativa trepidante y apasionante que ilumina la naturaleza insidiosa del racismo y subraya las formas en que las personas pueden erradicar los prejuicios racistas en su vida.