Austin Bat Cave strives to serve the greater Austin, Del Valle and Manor communities by providing creative writing activities and ideas during this time of social distancing while we care for ourselves and our families. While you and your kiddos may be staying safe at home, here are some writing prompts, activities and lessons from the OWL page to keep their creativity going!
Be sure to sign up here for the OWL newsletter to get weekly writing activities, lessons and ideas for fun at home!
If you would like updates on Austin Bat Cave programs, please visit our website and sign up for our newsletter.
Austin Bat Cave nos esforzamos servir a las comunidades de Austin, Del Valle y Manor por proveer actividades y recursos de escritura creativa durante este tiempo del distanciamiento social mientras cuidamos a nuestras familias. Mientras usted y sus hijos/as están en casa, Austin Bat Cave ofrece actividades de escritura de la pagina OWL para que los estudiantes siguen practicando y desarrollando su creatividad.
¡Asegúrese de suscribirse aquí para recibir el boletín informativo de OWL para obtener actividades de escritura, lecciones e ideas semanales para divertirse en casa!
Si quiere más información sobre las programs de Austin Bat Cave programs, favor de visitar nuestro sitio web.
What's new at the OWL?
¿Qué hay de nuevo en el OWL?
On Friday, we had our first Live Write-In for Teens. Participants responded to two writing prompts and shared their wonderful stories with us! Here are the prompts that the youth responded to if you want to write along at home:
En español: escribe sobre uno de tus recuerdos favoritos. Describa lo que escuchaste, lo que viste, lo que probaste, etc.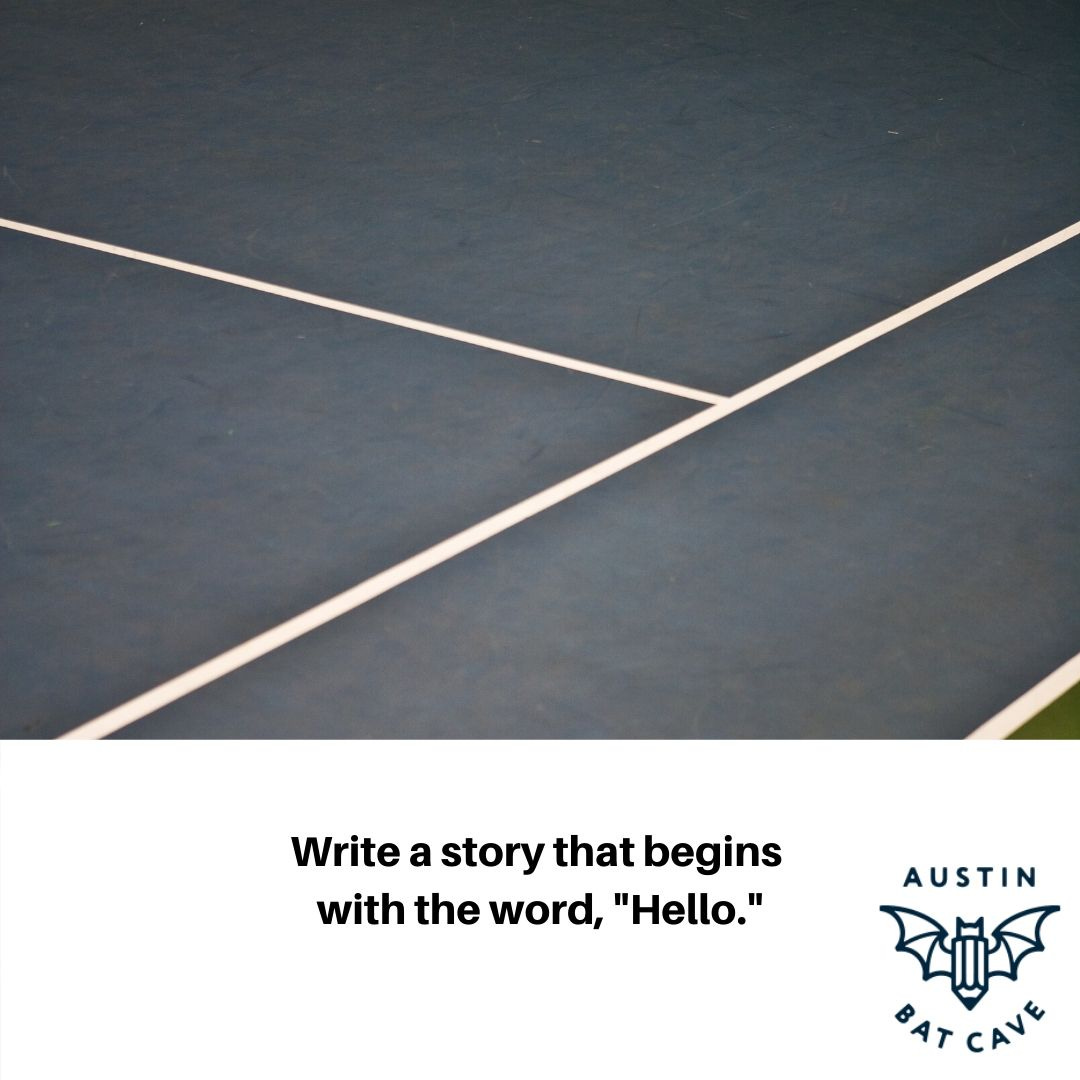 En español: Escribe un cuento que empieza con la palabra, "hola."
Our next Live Write-In will be on Friday, June 5th from 3-4pm! Sign-up here to reserve your spot!
¡Nuestro próximo Escritura en Vivo será el viernes 5 de junio de 3 a 4:15 pm! ¡Regístrese aquí para reservar tu espacio!
Writing activities to try at home this week:
Actividades de escritura para usar en casa esta semana:
These writing activities were created for young writers in 3rd-6th grade, but can be adapted for all ages. Check out the Teen Corner of the OWL for more activities specifically for teens. If you respond to one of these prompts and want to share your work with us to receive feedback and be featured on the next OWL newsletter, submit your writing to ABC!
Estas actividades de escritura fueron creadas para escritores jóvenes de 3 a 6 grado, pero pueden adaptarse para todas las edades. Explora el rincón para adolescentes por más actividades creado por jovenes. Si respondes a una de estas actividades y deseas compartir tu trabajo con nosotros para recibir comentarios y aparecer en el próximo boletín de OWL, ¡envíe su escrito a ABC!
Monday: Where have you lived during your life? With whom? Which home was most memorable and why? Describe it in as much detail as possible. What does home mean to you right now?
lunes: ¿Dónde has vivido durante tu vida? ¿Con quien? ¿Qué casa/hogar fue más memorable y por qué? Descríbalo con el mayor detalle posible. ¿Qué significa "casa" o "hogar" para ti en este momento?
Tuesday: Look into your purse or backpack or wallet – what is there and what would someone know about you or think about you given these contents?
martes: Mire su bolso, mochila o billetera: ¿qué hay y qué sabría alguien de ti o pensaría en ti basado en los contenidos?
Wednesday: What school moment has meant the most to you during this quarantine time and why – a story from school that you might repeat to others.
miércoles: ¿Qué momento escolar ha significado más para ti durante este tiempo de cuarentena y por qué? Una historia de la escuela que podrías repetir a otros.
Thursday: What did you do last summer that told you something about yourself? What will you do this summer that can be fun? Make a list of the things you enjoyed most about last summer and a list of what you will do this summer that you are looking forward to (be creative, even if you are limited by where you can go and what you can do).
jueves: ¿Qué hiciste el verano pasado que te dijo algo sobre ti? ¿Qué harás este verano que pueda ser divertido? Haga una lista de las cosas que más disfrutó del verano pasado y una lista de lo que harás este verano que esperas con ansias (sea creativo, incluso si estás limitado por dónde puede ir y qué puede hacer).
Friday: What is your favorite music for lifting your mood? Make a playlist for yourself (write it down, on Spotify, etc) to play for yourself in the future when you need a lift.
viernes: ¿Cuál es tu música favorita para animarte? Haz una lista de música para ti (escríbela en una lista, en Spotify, etc.) para tocar en el futuro cuando necesites sentir mejor.
Saturday: When do you feel most yourself – where, what are you wearing, who are you with, what are you doing? How can you do something for yourself today that will make you feel that way?
sábado: ¿Cuándo te sientes más como ti mismo? ¿Dónde estás, qué llevas puesto, con quién estás y qué haces? ¿Cómo puedes hacer algo por ti mismo hoy que te haga sentir así?
Sunday: A giant package shows up on your doorstep one day. What's inside of it? Who is it from? Write a story about what you would do.
domingo: Un dia, un paquete gigante aparece en tu puerta. ¿Qué hay dentro de él? ¿De quién es eso? Escribe una historia sobre lo que harías.
What we are reading this week:
Lo que estamos leyendo esta semana:
We are excited to recommend My Papi Rides a Motorcycle by Isabel Quintero and illustrated by Zeke Peña this week! This picture book is about Daisy Ramona, who zooms around her neighborhood with her papi on his motorcycle. She reflects on the people and places she's always known. She also sees a community that is rapidly changing around her.
But as the sun sets behind Daisy Ramona and her papi, she knows that the love she feels for him and her community will always be there. The story includes an author's note at the end from author Isabel Quintero about her inspiration for the book and Zeke Peña's illustrations beautifully capture the community that Daisy lives in and loves. Epic books online even has a wonderful animated audiobook read by the author (you can sign up for a 30 day free trial)!
¡Nos complace recomendar My Papi Rides a Motorcycle de Isabel Quintero e ilustrado por Zeke Peña esta semana! Este libro de imágenes es sobre Daisy Ramona, que recorre su vecindario con su papi en su motocicleta. Ella reflexiona sobre las personas y los lugares que siempre ha conocido. Ella también ve una comunidad que está cambiando rápidamente a su alrededor.
Pero cuando el sol se pone detrás de Daisy Ramona y su papi, ella sabe que el amor que siente por él y su comunidad siempre estará allí. La historia incluye una nota del autor al final de Isabel Quintero sobre su inspiración para el libro y las ilustraciones de Zeke Peña capturan bellamente la comunidad en la que Daisy vive y ama. ¡El sitio web "Epic books" en línea incluso tienen un maravilloso audiolibro animado leído por la autora (puede suscribirse por Epic Books gratis por 30 días)!