Austin Bat Cave strives to serve the greater Austin, Del Valle and Manor communities by providing creative writing activities and ideas during this time of social distancing while we care for ourselves and our families. While you and your kiddos may be staying safe at home, here are some writing prompts, activities and lessons from the OWL page to keep their creativity going!
Be sure to sign up here for the OWL newsletter to get weekly writing activities, lessons and ideas for fun at home!
If you would like updates on Austin Bat Cave programs, please visit our website and sign up for our newsletter.
Austin Bat Cave nos esforzamos servir a las comunidades de Austin, Del Valle y Manor por proveer actividades y recursos de escritura creativa durante este tiempo del distanciamiento social mientras cuidamos a nuestras familias. Mientras usted y sus hijos/as están en casa, Austin Bat Cave ofrece actividades de escritura de la pagina OWL para que los estudiantes siguen practicando y desarrollando su creatividad.
¡Asegúrese de suscribirse aquí para recibir el boletín informativo de OWL para obtener actividades de escritura, lecciones e ideas semanales para divertirse en casa!
Si quiere más información sobre las programs de Austin Bat Cave programs, favor de visitar nuestro sitio web.
Community Resources:
Recursos de la Comunidad:
Explore this resource for helping younger children learn how to write poetry.

Explora este recurso que ayuda a los niños/as aprender como escribir la poesía.

The New York Times has offered this resource on how to teach and learn from the 2020 Election for students and youth.

The New York Times ha ofrecido este recurso sobre cómo enseñar y aprender de las elecciones de 2020 para estudiantes y jóvenes.

Want to offer your kids or students more books about politics? Here is a list of books that teaches kids how to think about politics during this election year.

¿Quiere ofrecer a sus hijos o estudiantes más libros sobre la política? Aquí hay una lista de libros que les enseña a los niños cómo pensar en el proceso político durante este año electoral.
What's new at the OWL?
¿Qué hay de nuevo en el OWL?
Dispatches from the Bat Mobile
We are still collecting submissions for responses to OWL's weekly writing prompts or activities as mentioned in our previous newsletter. We would love to engage with the readers of the OWL Newsletter and offer them the opportunity to get their amazing writing featured on the ABC @batmobiledispatches Instagram Live!Your piece will also be submitted to the Austin Bat Cave yearly anthology, will be shared on the next OWL newsletter and will be added to an archive of student work on the Bat Mobile! Please fill out this form in order to have your piece featured in the next issue of the OWL Newsletter!
¿Has escrito algo increíble durante la cuarentena o respondió a una de las sugerencias o actividades de escritura semanales de OWL y desea compartirlo con otros? ¡Complete este formulario para enviar su trabajo a Austin Bat Cave y un autor o artista local interpretará su trabajo desde el Bat Mobile en el ABC @batmobiledispatches Instagram Live! ¡Su pieza también sera publicado en la antología anual de Austin Bat Cave, se compartirá en el próximo boletín de OWL y se agregará a un archivo de trabajo de estudiantes en Bat Mobile!
Spotlight on ABC's free Fall 2020 Virtual Programs: All About Me: Using Personal Narrative Writing to Tell Your Story
Saturday, November 14th, 11am–2pm
Interface: Zoom
5th-9th grade
We all have a story to tell, and writing can be one of the best ways to capture it. In this workshop, you will learn how to share your memories, experiences, and personality through the art of personal narrative writing. Students will learn the different styles that personal narratives can take, and, using inspiration from published authors, will write a short narrative about a meaningful event or experience from their life.
Todos tenemos una historia que contar y la escritura puede ser una de las mejores formas de captarlas. En este taller, aprenderás a compartir sus recuerdos, experiencias y personalidad a través del arte de la escritura narrativa personal. Los estudiantes aprenderán los diferentes estilos que pueden adoptar las narrativas personales y, inspirándose en autores publicados, escribirán una narración breve sobre un evento o experiencia significativa de su vida.
Writing activities to try at home this week:
Actividades de escritura para usar en casa esta semana:
Monday: We all have chores to get done or simple tasks to complete. Invent an improbable and interesting way to get these things done with technology or magic. Write out your plan!
lunes: Todos tenemos tareas que hacer o tareas simples que completar. Invente una forma improbable e interesante de hacer que estas cosas usando la tecnología o magia. ¡Escriba tu plan!
Tuesday: Introductions are at the beginning of all writing. They try to hook the reader's interest and get them to keep reading. They usually do this with a clever and interesting statement, a brief story, or a surprising scene. Write an introduction to any kind of story you want!
martes: Los introducciones comienzan toda la escritura. Intentan captar el interés del lector y conseguir que siga leyendo. Por lo general, hacen esto con una declaración inteligente e interesante, una breve historia o una escena sorprendente. ¡Escriba una introducción a cualquier tipo de historia que deseas!
Wednesday: Imagine you are writing an advice article in a magazine that begins with "5 Things You Need to Know About ______!". Fill in the blank with something you like doing or know a lot about. Then write 5 exciting and useful tips or facts about it. If your thing is not very exciting, make it sound exciting! Make it sound like people need to know about this!
miércoles: Imagínese que está escribiendo un artículo de consejo en una revista que comienza con "¡5 cosas que necesita saber sobre ______!". Complete el espacio con algo que le guste hacer o sobre lo que sepas mucho. Luego, escribe 5 consejos o datos interesantes y útiles al respecto de este tema. Si lo tuyo no es muy emocionante, ¡haz que suene emocionante! ¡Escribe en un estilo que parezca que la gente necesita saberlo!
Thursday: If you could own one piece of clothing, what would it be? Does it do anything cool? Go into detail on its design. It could be anything from a cool pair of shoes to a nice dress.
jueves: Si pudieras tener cualquier ropa, ¿cuál sería? ¿Hace algo genial? Entra en detalles sobre su diseño. Puede ser cualquier cosa, desde un buen par de zapatos hasta un bonito vestido.
Friday: Begin a story with "Let me tell you how I became famous."
viernes: Empieza un cuento con, "Dejame decirte como me hice famosa."
Saturday: Write a poem about a trip, adventure, or journey in any style of poetry.
sábado: Escribe un poema sobre un viaje o una aventura en cualquier estilo de poesía.
Sunday: Switch the numbers for inches and feet of your height. For example, 5'3" becomes 3'5" and 5'8" becomes 8'5". Imagine you woke up like this. Write about the cool things you could do and how your life would change.
domingo: ¿Cómo cambiaría tu vida si cambiaran tu altura de pies a pulgadas? Escribe sobre las cosas nuevas que puedas hacer.
What we are reading this week:
Lo que estamos leyendo esta semana: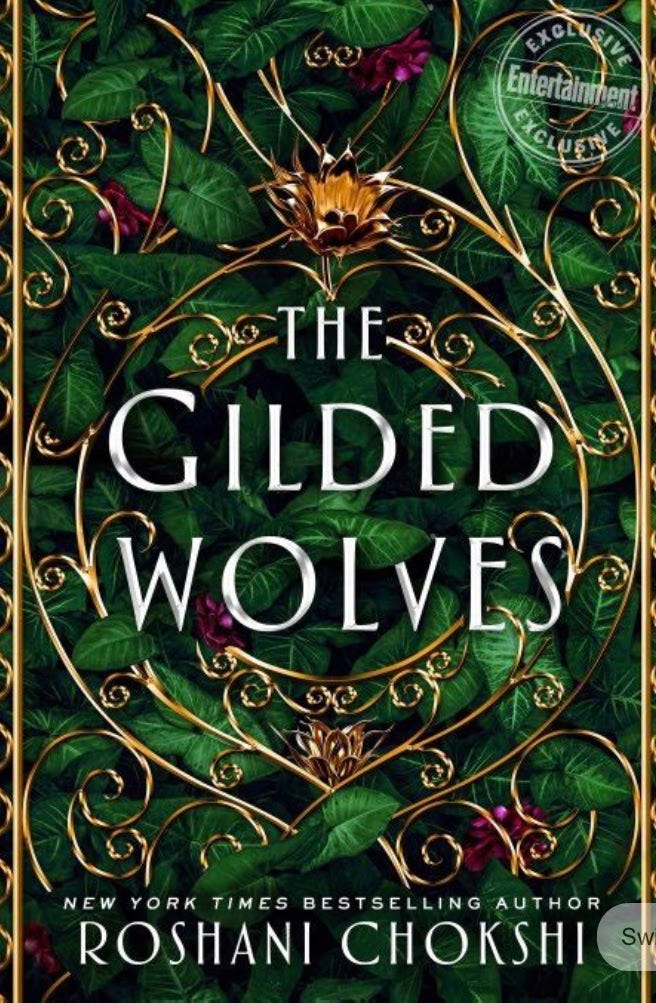 We are proud to recommend The Gilded Wolves by Roshani Chokshi this week! It is a novel full of fun and with prose that will make you want to dive into the pages and never leave. It's 1889. The city is on the cusp of industry and power, and the Exposition Universelle has breathed new life into the streets and dredged up ancient secrets. Here, no one keeps tabs on dark truths better than treasure-hunter and wealthy hotelier Séverin Montagnet-Alarie. When the elite, ever-powerful Order of Babel coerces him to help them on a mission, Séverin is offered a treasure that he never imagined: his true inheritance. To hunt down the ancient artifact the Order seeks, Séverin calls upon a band of unlikely experts: An engineer with a debt to pay. A historian banished from his home. A dancer with a sinister past. And a brother in arms if not blood. Together, they will join Séverin as he explores the dark, glittering heart of Paris. What they find might change the course of history--but only if they can stay alive.
¡Estamos orgullosos de recomendar The Gilded Wolves de Roshani Chokshi esta semana! Es una novela llena de diversión y con prosa que te dará ganas de sumergirte en las páginas y no salir. Es el año 1889. La ciudad está en la cúspide de la industria y el poder, y la Exposición Universal ha insuflado nueva vida a las calles y desenterrado antiguos secretos. Aquí, nadie controla las verdades oscuras mejor que la cazadora de tesoros, Séverin Montagnet-Alarie. Cuando la élite y siempre poderosa Orden de Babel lo obliga a ayudarlos en una misión, a Séverin se le ofrece un tesoro que nunca imaginó: su verdadera herencia. Para cazar al antiguo artefacto que busca la Orden, Séverin recurre a un grupo de expertos: un ingeniero con una deuda que pagar. Un historiador desterrado de su casa. Una bailarina con un pasado siniestro. Y un hermano de armas si no sangre. Juntos, se unirán a Séverin mientras explora el corazón oscuro y brillante de París. Lo que encuentren podría cambiar el curso de la historia, pero solo si puedan sobrevivir la aventura.